Fridays Letters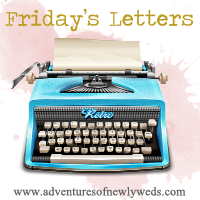 Dear Baby, Its been 3months now. My heart is healing. But I never stop thinking about you. Love you so much.
Dear J, another vacation? Say next week? Yes?
Dear O, E, J - Oh how Lala loves you. I'm praying for you my dears. God is with you.
Dear Birthday, I realize your not until October... But every time I think about you I get a little nervous. (I will be 27!!)
Dear Geography, You are over!! And I passed you with a B! YES!
Dear Psych of adjustment, be kind.
Dear J, I love you. And I'm loving our morning devotions.
Dear God, thanks you for never failing me.
So yes blog friends that paper I was complaining about well... I made an A!! And that comprehensive final... an A!! YAY! So I was pretty darn thankful that God was with me that night! Because honestly didn't see that coming!
Hope everyone has a fantastic weekend!! :)
Happy Blogging!