Friday's Letters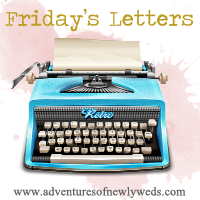 Dear Friday, you are my last work day for 9 days!
Dear Abby, I just love your cuteness! Thanks for the cuddles this morning :)
Dear J, Thanks for your cuddles too *thumbs up*
Dear vacation, you are here!!!!
Dear paper, haha you didn't defeat me! 9 pages baby!
Dear Final, I'm finding you a bit intimidating! eeEEeekkkK!
Dear August, you are the beginning of my favorite time of year!!
Dear September, you are filled with so many exciting things!
Dear J, I love you & am so excited about us being able to spend 7 days just me and you!
Dear God, you are just so worthy of all my praise! I will praise you in the good and bad, because ultimately you have a plan. <3
That's it guys! My last post before vacation. I do have about 3 post scheduled for next week which I'm so psyched about!!
Remember me in your prayers, there is so much information on this final! Thanks!! :)
Until next time.... Happy Blogging!