Friday Letters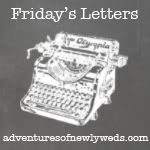 Dear week, You have gone so slow.
Dear Pixel, You have been a good girl. You may not have to find a new home
Dear blog buddies, Did I tell you about my pink cape?
Dear J, You are so sweet and I'm so proud of you my love!
Dear O, E, and J - I think that Lala and Joshy need to kidnap you for a weekend! How fun would that be?
Dear Abby, you were so cute acting all spunky in your old age!
Dear weather, please stay Fall! I'm tired of being hot!
Dear Josh, just another note to say I love you!
Dear God, You continually amaze me! Thank you for loving me despite my self.