Friday Letters!!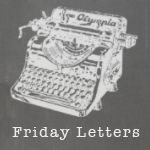 Dear Giveaway, So there wasn't as much entries as I had hoped. We have two winners... Because only two entered and were tied! HA! :) - I will announce them Monday!
Dear Blog, I hope you grow... Just got to figure out how to do this :)
Dear J, Thank you for supporting me in everything I do!
Dear Hope, We will be honoring your memory... love you sweet baby.
Dear Sharon, Thank you for your support <3
Dear Pixel, I'm surprised that you have been left out all night every night this week and only had one accident. So continue to behave and this might become a permanent thing
Dear Abby, It makes me sad seeing you slow down... I hope I have you for much longer
Dear O, E, J- I LOVE YOU!!!!
Dear J, You are my best friend. Love you.
I'm so excited about October 15th, not only is it my birthday. But I will be hosting a balloon release at my church in honor of Hope. And all other babies lost.