Friday's Letters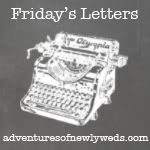 Dear new job, I could hardly contain my excitement this morning. I was in a real to goodness BIG GIRL meeting today!
Dear J, I so miss. I think some quality time is needed.
Dear Grandma and Mom, THANK THANK YOU for working on my pilgrim costume!
Dear Bloggie friends, I was so excited to have some new followers this week!
Dear self, let me just tell you... you rock. God is opening doors for you. Walk through. Head held high. Rest in his peace.
Dear other job, I can't promise I'm not going to cry buckets when I leave. I love it here. I love working with my church family.
Dear J, Did I mention that I love you? I'm so excited for the doors that are opening for us!
Dear God, You simply amaze me. Your so wise. Thank you for keeping me close.
That's all folks!! :)
Come Monday I will be sharing the pics and details from our Thanksgiving Celebration at our church... With me in costume :)