Friday's Letters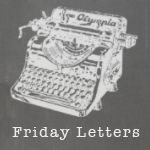 Dear Friday, Thank you for coming! :)
Dear Dr. P, Because of your rudeness and insults (being the sensitive person I am) cried almost all day.
Dear M, please try and not use your kids as controls for other people.
Dear K, I haven't spoke with J in 3 months. This is ridiculous.
Dear Josh, I love you.
Dear School, I'm glad I have you to concentrate on.
Dear Self, YOU are going to have to find something to do to destress... Listen to me! :)
Dear O, E, and J- Your uncle and aunt love you so much. We pray for each of you.
Dear Josh, I love you.
Dear God, Thank you for encouragement you sent me yesterday. Thank you always for your faithfulness. Thank you for being my strength when I'm falling to pieces. I stand amazed and in awe of you once again!
After my expeirence yesterday at the Drs. I will be looking for another. My blog yesterday was not in anyway completely serious, but after the appointment I had GOOD reason to be anxious going to her. Geeze. But I made it. God gave me strength! Plus, I started my new class and Loved it!
Hope everyone has a great weekend!!