Friday Letters!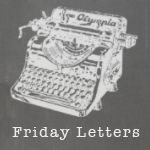 Dear K, ugh.
Dear Body, right now I'm not a fan of you.
Dear Pixel, the fact that I taught you a trick still is making me smile :)
Dear J, I think your so cute trying to look all professional!
Dear Hope, Mommy has been thinking about you alot
Dear (hopefully) future kids, I guess this month was not your time. :(
Dear Blog friends, I love that I can come here and share my heart
Dear weekend, I will make you awesome and I will relax even if its 10 min!
Dear school, I'm enjoying you but I can tell this is getting deep
Dear best bud, really wish I could come and see you!
Dear J, I love you with all my heart... and this weekend its you and me and the mountains :)
Dear God, I know you hear my cries and see my tears.
Have a great weekend!!