BIG announcment!
Remember when I said that I had been contacted by a website to be a contributor blogger?
Well the website was launched today!!
I have been following Fawn over at Happy Wives Club for some time now and love what she is doing! I actually wrote a post about her website
HERE
. Fawn contacted me a few weeks ago and asked if I would be interested in being a contributor to the website.... of course I said YES!!
You can find my first post on their website
HERE
! Go check it out please! And leave me a comment, share the page.
I'm so excited to be apart of this movement because ... I'm a Happy Wife! I love being married and feel blessed to be apart of this great group of wives :)
Go check out the new website and enter in a AWESOME giveaway! When I say
awesome
I really mean it! :) Just click the button below...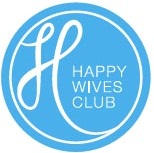 Staying Hopeful, Aunt LaLa