His eye is on the sparrow!
God is faithful in the small and big things.
His love is everlasting.
His peace surpasses all understanding.
His mercy and grace are unending... Oh how I love Jesus!
This is on my heart this morning. God has been so faithful to me. Sometimes I forget how much he loves me. I was reminded again Tuesday night at my monthly ladies group meeting (SafeHearts). A sister was sharing her heart. Which sounded alot like mine...
Shame - Beacause I've made a mistake
Guilt - for failing
Heartbreak- because I can't get it right
Heartache - because I'm grieving so hard
(This is my heart not hers)
Having feelings and emotions are fine. Its OK that I am grieving. God built our minds

, bodies, and gave us these emotions. He created me this way.
However there is a slight problem... its when these struggles become your focus and not God. When all you can do is concentrate on the heartache or struggle. I believe we go

through

seasons of when we struggles are harder then others. I think among the many lessons God is trying to teach us on a personal leve

l, I think there is one main lesson to be learned.
To put him first. To trust him with EVERYTHING! (thats tough

)
If you are a natural fixer, this can be difficult (I know because I am one

)
I over analyze everything and try to create a solution and when I can't find one/its out of my control my anxiety flairs up. I get frustrat

ed.
I want to fix my body so that I can have

a baby
I want to fix my family so that they can experience G

od the way I do
I want to fix situation to the I way I want

it

to be, for the greater good in MY

eyes
Notice a pattern?? A litt

le selfish? Lots of "I" in there...
My trust is not where it needs to be usually. And I'm working on that. It feels good to be able to write all this out. I do this in hopes it might encourage someone else as it has me to realize

how much God loves me..
So the LORD must wait for you to come to him so he can show you his love and compassion. For the LORD is a faithful God. Blessed are those who wait for his help.
I rely on the LORD, I rely on him with my whole being; I wait for his assuring word.
Wait for the LORD; be strong, and let your heart take courage; wait for the LORD!
My pastor preached a sermon a couple weeks ago that has just stayed my heart and I have been repeating it over and over. I've heard this scripture so many times but it just

hit me so hard...
25 "For this reason I say to you, [n]do not be worried about your [o]life, as to what you will eat or what you will drink; nor for your body, as to what you will put on. Is not life more than food, and the body more than clothing?
26
Look at the birds of the [p]air, that they do not sow, nor reap nor gather into barns, and yet your heavenly Father feeds them. Are you not worth much more than they?
27 And who of you by being worried can add a single [q]hour to his [r]life?
28 And why are you worried about clothing?

Observe how the lilies of the field grow; they do not toil nor do they spin,
29 yet I say to you that not even Solomon in all his glory clothed himself like one of these.
30 But if God so clothes the grass of the field, which is alive today and tomorrow is thrown into the furnace, will He not much more clothe you? You of little faith!
31 Do not worry then, saying, 'What will we eat?' or 'What will we drink?' or 'What will we wear for clothing?'
32 For the Gentiles eagerly seek all these things; for your heavenly Father knows that you need all these things.
33 But [s]seek first [t]His kingdom and His righteousness, and all these things will be [u]added to you.
34 "So do not worry about tomorrow; for tomorrow will [v]care for itself. [w]Each day has enough trouble of its own."
Those two verses hit me like a ton of bricks... He LOVES me!!
I wish I could bottle the excitement, healing, joy I feel right not reading this again!!
I'm going to write more about this later... as I do have other things to do :) and I know you don't want a book...
Dear Friday, I love you!
Dear New car (Yep we found one), I'm really digging you!
Dear J, we will get used to the change. I love you!!
Dear God, again you never cease to amaze me!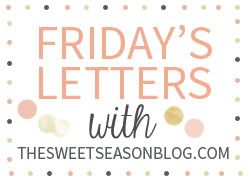 Staying Hopeful,
Aunt LaLa