Thank God this week is OVER
Well I have not blogged much this week due to I have had a sick husband, and I love my hubby but usually when a man is sick it WEARS the wife out... Plus we have a new puppy and we had a thing for the church which was GREAT! I talked about it
HERE
... FINISHED my LAST philosophy class which I explained my woes
HERE
& needless to say it has been crazay! <--- Like my new word :)
Anyway now for something fun FIVE QUESTION FRIDAY with Mama M.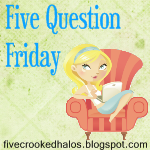 1. What do you do when you are really upset to calm yourself down?
Usually pray, cry, walk, write in my journal... Try to do something to calm me down. EAT! lol
2. Do you go all out for V-day or is it just another day?
Well, we usually ALWAYS go out or stay in and have a romantic dinner. Last year I cooked and we stayed home. This year that was the plan, but however Josh was sick.So we actually did NOTHING... I was bummed. I even tried to decorate.Oh well. Maybe he will make it up to me.
3. Are you more or less productive when Hubs is away?
With the cleaning its about the same, if its school work then I am MUCH more productive when he is gone.
4. What is your favorite time of day and why?
Probably when Josh gets home and I'm home. We are done with the day and I sit by him and he gives me the biggest hug!
5. What is your go to karaoke song?
Probably YMCA- HA! No, I actually karaoke all the time! Love it! My favorite one to sing is "Friends in Low Places" and "Boot Scootin Boogie"
There ya are! Happy Blogging!