Marraige Monday: Friends
Josh and I have not been able to find a couple that lives around us that we connect really well with that are around our age. We have great people in our life! But we just never found that "Hangout" couple.
I have kept in touch with one of my friends from my late teens. We have been friends for almost 10 years now! A few months ago we finally made plans to get together so that our husbands could meet. They of course hit it off immediately! They have so much in common!
Since then we have hung out quite often!
So over at Happy Wives club Fawn wrote a post about a very cool idea her and her husband friends do for fun! So I'm joining in :)
J and I are your pretty average couple! So is our friends S and Jo!
We all love games! J, S, and Jo love playing games on various game consoles... I do sometimes. I just do not have the skills LOL!
Board games have been quite a riot with all 4 of us!
I think I have to say my favorite thing was dancing to Micheal Jackson the Experience on our PS3 Move this weekend!
Now, let me tell me you there will be pic and vids up in a couple days! I'll make sure to share!
We danced and did not care what we looked like! It was so FUN!
While trying to keep up with Michael was very difficult we tried our hardest!
I'm so thankful God brought this couple into our lives. S and I have been able to share so much and encourage each other as we are both struggling with infertility. Oh what a blessing to say how I feel or her and we both get it. S and Jo have been great friends to us. S and I both were talking this weekend, how God has such intricate plans for us all! How would we have know that God would bring us 4 together for time such as this. With husbands that are almost twins and all! :) We love you guys!
Having good friends is good for your marriage! You sharpen each other. You can get advice from each other. We all can encourage each other in the Lord, and really what is better then that??
Head over to Happy Wives club!!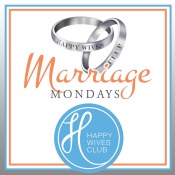 Staying Hopeful,
Aunt LaLa