I betcha didn't know...
So found this over at
Perfectly Imperfect
and thought I would play along...
5
**Things you will find in my purse
~all my make-up - I have 2 mascara, several lip gloss, 2 large eyeshadow compact, powder, concealer, blush and several make-up brushes :)
~ Wallet (of course)
~Ipod, that usually has a dead battery LOL
~random receipts ( I have hard time throwing things away)
~Old tissue (gross right?)
**Things you will in my bedroom
~All of my clothes... Josh has to use a separate closet (the closets are small ok?)
~all of our chargers (Josh must have them within arms length)
~my Hope pillow
~empty glasses because I always have water in the middle of the night
~stacks of clutter
**Things I've always wanted to do
~Take a pottery class
~Take a painting class
~Visit the church where Hope's name is recorded
~Go on a cruise
~Get a massage
**Things I'm currently loving (this may be a little sad LOL)
~When I get to sleep
~any lotion (this cold weather is taking a tole on my hands)
~my black boots
~my text book for my counseling theories class
~eating at home when I can
**Quirks I have (this should be good!)
~I hate the feeling when only one of my hands is wet and the other is not.
~I love hard copies of books, my notes, my calendar... I would rather have hard copy then on a device
~I must have a drink at all times. Seriously. Josh even makes jokes about how I'm addicted to drinking LOL
~Please dear God do not let the sheet come off the bed and my feet touch it!! AAAHHH
~I pester Josh ALOT... heehee and I think its hilarious!
Let me know if you decide to play along :)
OK time for Friday Letters!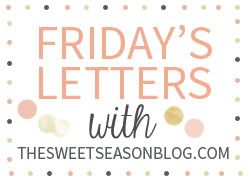 Dear J, thank you for being there when I need to share my heart
Dear A and S, I cannot wait for some girl time tonight
Dear O,J,E, and N, You are Lala's heart!
Dear HCF, I'm so blessed to be apart of our family
Dear God, thank you for your mercy and grace as I work out my "stuff"
Have a great weekend!!