Friday's Letters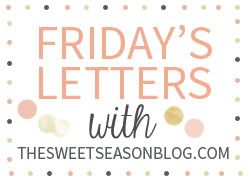 Dear Josh,
I Hope you know how much I love you. Thank you or for supporting me in everything I do. When it seems I'm always writing a paper, researching some statistics, writing up my contact log, preparing for a meeting, or any of the things I do in a week. I promise You and I will have some quality time this weekend. Sorry for my absence this week. Think this time next year I will be almost done with school :)
Dear job,
I really love you. And I'm excited to continue to watch this program grow.
Dear bosses,
It was a great compliment today when you wanted my co workers portfolios, organization, etc to look like mine when you present it to state Tuesday :D
That's all that folks! I'm exhausted!
Have a great weekend!