Selfish Pride
God has been doing some amazing things in my life over the last month.
I'm wanting to share all of it with you!!
But even though it is Wednesday I wanted to link up with Marriage Monday over at Happy Wives Club.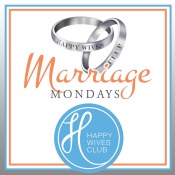 I love this weeks article. It goes along with some things God has been shining a light on in my heart.
I am reboosting my marraige by remembering it is not all about me.
J and I DO try our best to serve one another but there are times when I fail desperately at remembering to serve him.

I put on him expections of things I may want but sometimes I forget to say, "What do you need from me?"
Before I can fix my marraige, I need to look at my spiritual life and how prideful or selfsish am I being.

How many times do I pray for others earnestly as I do my own heartache?
Am I calling out names of the unsaved??
Something to think about... And I think this song says it all!
Staying Hopeful,
Aunt LaLa