5QF - on Saturday... oops
I used to do Five Question Friday every week! Loved it! Then I got busy.. then the host took a little break from it... but this week it is back! I loved the questions... so...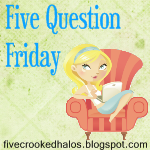 1
. I
f I had 5 minutes alone with Mother Nature I would tell her?
PICK A SEASON ALREADY!! Here in E. Tennessee there has been a confusion. It has been hard core winter than awesome spring... back to we are expecting snow... AGAIN. I'm tired of the cold! And I've always loved Winter! But enough. I'm ready for Spring!
2.
If you could eat only one thing for a whole week what would it be?
Wow, one week? That's all. Hmmm. Well it would have to be filling. Because when I'm hungry it is not a pretty sight! I would say a cheese and carb mix. Maybe a casserole of some kind. That would do me. I hope.
3. W
hat is your favorite season and why?
Spring... everything comes alive. I feel so happy during the Spring! I love it. It is not too hot or too cold... Its just perfect. Even thought I have allergies, it is my favorite time. I love the colors of Spring. Easter is one of my favorite holidays.
4. D
o you have a meal that you are AMAZING at making? If so,

share
the recipe!
Well, J loves when I make hot wings, or when I on a whim season meat with what ever strikes me as good. It always turns out yummy! I have my own concoction of things. I do love and J loves my Grandma Pruitt's chicken dish. Check out the recipe HERE
5. What has changed in your life since the last 5QF (08/13)?
Well the biggest change is.. we are expecting! Due 10/6. After trying for four years, our miracle is here! You can read about Baby L at the link listed below
And I'm am only one class away from graduating! I cannot believe it!
2014 so far has been a whirlwind! Look for a post Monday announcing the winners from the Happy Wife giveaway. Also I will be showing some baby bump pics and new ultrasound pictures! Oh and probably TMI things about pregnancy EVERYONE failed to mention....